ASIATIQUE INTL TRAVEL & TOURS SERVICES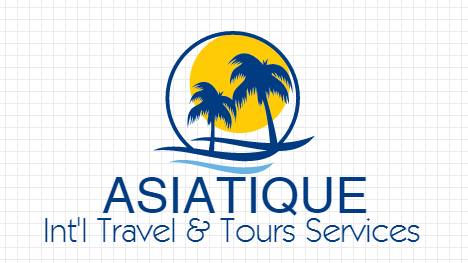 ASIATIQUE INT'L TRAVEL & TOURS SERVICES, is a full operations travel agency founded in June 10, 2000, and has since serviced thousands of satisfied clients, providing arrangements that best suit clients tastes and requirements thru: Domestic & International Airline Reservations; Domestic & International Tour Packages, Worldwide Hotel Reservations; Passport Processing and Visa Assistance for Filipinos; Visa and Immigration assistance for Expatriates; Transportation and Transfers; Cruises; Conventions, Trade fairs; Travel Insurance and more…

ASIATIQUE INT'L TRAVEL & TOURS SERVICES , qualifies every travel partner it works with and has entered into preferential contracted rates agreements with hotels, resorts and tour operators to top destinations in the Philippines and Asia, US and Europe. Drawing on an extensive travel industry knowledge base, and backed with 16 years of committed service, ASIATIQUE TRAVEL can make your travel a pleasant experience!

Having been in the Industry for 16 years servicing the needs of multinational companies, embassies, and government agencies, rest assured ASIATIQUE INTL. TRAVEL, can handle all your travel requirements. Being receptive of commerce and industry changes and improvements.
Country : Philippines