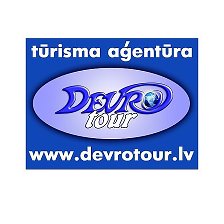 Devro tour organizes guest reception in Riga (Latvia) - a city that is definitely a cultural capital. Many attractions and the city's historic streets, unique architecture and breathtaking historic cities attract more and more visitors every year.

Devro tour offers not only classical programs but also exclusive, tailor-made programs in the chosen country. For example, there are romantic recreation programs (France, Italy), SPA-recreation (Lithuania, Estonia, Bulgaria), historical tours (Greece, Russia ...), foreign tours (Belarus, Latvia ..), as well as bus tours for children and for adults. The duration of the trip varies from one day to several days - it all depends on the wishes of the customers.
Devro Tour offers trips for both organized groups and individual trips to one or more tourists. At customer request, travel can be arranged on an individual route. The amount of trips and the variety of excursions is very large, so each one can find the most suitable for you.
- our prices are maximized with good service and versatile program;
- Our deals will meet your needs, but the prices for your options;
- cooperation with us is pleasant and beneficial.

Devro tour - a solution to children's leisure and organization problems! One of the activities of the "Devro tour" is the organization of travel for pupils, young people and children, as well as organization of their leisure time. Educational holiday trips, graduation events, New Year events, guitar trekking and songs at the fire - this is the "Devro tour"!



- We will recommend trips for you according to your age and interests.
- We will provide you with a travel-friendly transport.
- We appreciate your time and therefore we will address all the organizational issues by visiting you personally (at school, kindergarten or other teaching institution) at a time convenient and convenient to you.
- We will inform you about our news and discuss our cooperation.
- Students studying tourism will be able to come to us with a qualified practice with the opportunity to cooperate in the future.
We work to make you happy!
"Devro tour" organizē viesu uzņemšanu Rīgā (Latvijā) – pilsētā, kura viennozīmīgi ir kultūras galvaspilsēta. Daudzie apskates objekti un pilsētas centra senlaicīgās ieliņas, unikālā arhitektūra un vēsturiskā pilsētas elpa katru gadu piesaista arvien vairāk viesu.

"Devro tour" piedāvā ne tikai klasiskās programmas, bet arī ekskluzīvas, klientu vēlmēm atbilstošas programmas izvēlētajā valstī. Piemēram, ir romantiskas atpūtas programmas (Francija, Itālija), SPA-atpūta (Lietuva, Igaunija, Bulgārija..), vēsturiskas ekskursijas (Grieķija, Krievija …) , ārtsnieciskās tūres (Baltkrievija, Latvija ..), kā arī autobusu tūres bērniem un pieaugušajiem. Ekskursiju ilgums variējas - no vienas dienas līdz pat vairākām dienām- viss atkarīgs no klientu vēlmēm.
"Devro tour" piedāvā ceļojumus gan organizētām grupām, gan individuālus ceļojumus, vienam vai vairākiem tūristiem. Pēc klientu pieprasījuma ceļojumi var tikt organizēti pēc individuāla maršruta. Ceļojumu daudzums un ekskursiju dažādība ir ļoti liela, tātad, katrs var atrast sev piemērotāko.
- mūsu cenas ir maksimāli pieejamas ar labu servisu un daudzpusīgu programmu;
- Mūsu piedāvājumi atbildīs jūsu vajadzībām, bet cenas Jūsu iespējām;
- sadarbība ar mums ir patīkama un izdevīga.

"Devro tour"- bērnu brīvā laika pavadīšanas un organizēšanas problēmu risinājums! Viens no "Devro tour" darbības virzieniem ir ceļojumu organizēšana skolēniem, jauniešiem un bērniem, kā arī to brīvā laika organizēšana. Izglītojoši brīvdienu ceļojumi, izlaidumu pasākumi, Jaungada pasākumi, pārgājieni ar ģitāru un dziesmām pie ugunskura – tas ir "Devro tour"!



- Mēs ieteiksim Jums ceļojumus atbilstoši vecumam un interesēm.
- Mēs nodrošināsim Jums ceļojumam atbilstošu transportu.
- Mēs novērtējam Jūsu laiku un tādēļ visus organizatoriskos jautājumus jautājumus mēs risināsim, ierodoties pie jums personīgi (uz skolu , bērnudārzu vai citu mācībuiestādi) Jums izdevīgā un ērtā laikā.
- Mēs informēsim Jūs par mūsu jaunumiem un pārrunāsim mūsu sadarbību.
- Studenti, kas studē tūrismu, varēs iziet pie mums kvalificētu praksi ar iespēju sadarboties nākotnē.
Mēs strādājam, lai Jūs iepriecinātu!
Country : Latvia