10-day of Captivating Central Mongolia Tour-2017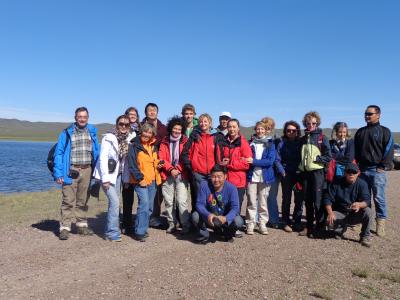 Cities

| | |
| --- | --- |
| Tsetserleg |  Mongolia |
| Terelj |  Mongolia |
| Kharkhorin |  Mongolia |
| Khorgo |  Mongolia |
| Altan-Ovoo |  Mongolia |
| Ulaanbaatar |  Mongolia |
| Orkhon |  Mongolia |

Meals
FB
Category
3*, 4*, 5*
Transport
Car
Group discount starts from
3 people
Days
10
Price per person
from $1699
Minimum number of persons for booking is 10
Description
Key Information:
Trip Length: 10 days/9 nights.
Trip Type: Easy to Moderate.
Tour Code: SMT-CM-10D
Specialty Categories: Adventure Expedition, Cultural Journey, Camel riding, Driving tour, E-co Travel, Hiking & Trekking, Horseback riding, Hot spa, Local Culture, Nature & Wildlife.
Meeting/Departure Points: Ulaanbaatar, Mongolia.
Minimum Group size: 3-4 adults or more participants.
Season: Daily, June-September.
Total Distance: approx. 2500kms/1554miles.
Airfare Included: No.
Tour Customizable: Yes

Net Tour Costs per person-2017:
10 people or more participants: $ 1699
6-9 people: $ 1799
3-5 people: $ 1899
2 people in private: $ 2399

Tour Highlights: Upon your arrival in Ulaanbaatar, meet Samar Magic Tours team. This is an Unforgettable Journey for those who like high adventure, Cultural, Wildlife animals, Wildlife Photographic, Wild mammals, Wildlife of the Mongolian Steppe, Wild and Scenic country and travel to a unique and remote corner of the World!. Captivating Central Mongolia gets you to Karakorum-the Genghis (Chinggis) Khan's 13th century capital and heart of the mighty Mongolian Empire in Okhon river Valley, relaxing and enjoy Hot Spa, explore the area of Terkhiin Tsagaan-this is a freshwater lake with volcanic area around it is certainly the highlight of Arkhangai province in Central Mongolia and many more. We would be pleased to have you join us.

The Best Time to Travel to Mongolia: The travel season begins in mid-May, when the tourist Gers camps start opening. July and August are the peaks tourist season. September is autumn.

Brief Itinerary-2017:
Day 1-Upon your arrival in Ulaanbaatar, meet Samar Magic Tours team. Overnight at your selected hotel 5* or hotel 4* or hotel 3*. (D).
Day 2-Ulaanbaatar-Great Statue of Genghis Khaan-Terelj National Park- Ulaanbaatar. Overnight at your selected hotel 5* or hotel 4* or hotel 3* . (B)(L)(D)
Day 3-Ulaanbaatar-Karakorum-Horseback riding in Karakorum on Orkhon Valley. Overnight in Tourist Gers Camp. (B)(L)(D).
Day 4-Karakorum-Tsenkher Hot Spa. Relaxing and enjoy baths at Tsenkher hot spa. Overnight in Tourist Gers Camp. (B)(L)(D)
Day 5-Tairkhar rock-Tsetserleg-Lake Terkhiin Tsagaan National Park. Overnight in Tourist Gers Camp. (B)(L)(D)
Day 6-Full day in Lake Terkhiin Tsagaan National Park/Hiking & Trekking to Horgo Extict Volcano. Overnight in Tourist Gers Camp.(B)(L)(D)
Day 7-Lake Terkhiin Tsagaan National Park-Tsetserleg-Karakorum. Overnight in Tourist Gers Camp. (B)(L)(D)
Day 8-Karakorum-Elsen Tasarkhai Mongol Sand Dunes (Bayangobi desert)-Camel riding on Elsen Tasarkhai sand dunes. Overnight in Tourist Gers Camp. (B)(L)(D)
Day 9-Elsen Tasarkhai Mongol Sand Dunes-Hustain Nuruu Wild Horses National Park-Ulaanbaatar. Overnight at your selected hotel 5* or hotel 4* or hotel 3* (B)(L)(D)
Day 10-Trasfer to the airport. Departure Mongolia. (B)
The price includes
3 nights at selected hotel 5* or hotel 4* or hotel 3* in Ulaanbaatar, based on double indicated room. 6 nights in the tourist camps, based on private Gers, outside of Ulaanbaatar. Full board (B-breakfast, L-lunch, D-dinner), including one bottle of mineral water. English speaking guide. All transportation on Japanese vehicle in private (4WD), including the petrol. Entrance fees to the all specified protected areas, national parks, museums, and the monastery. One Mongolian traditional folk songs concert. Relaxing and enjoy baths at Tsenkher hot spa (1 hr). Camel riding on Elsen Tasarkhai sand dunes (1 hr). Horseback riding in Karakorum (1 hr). Meeting nomadic people. Taxes and services. Letter-visa support (if necessary).
The price does not include
Flights and occasional flight delays or cancellation. Visa. Excess baggage. The binoculars, telescopes and tripod (if necessary). Any rescue costs or costs of early departure. Changing of date of departure from Ulaanbaatar. The traveler is responsible for having proper travel documents, such as a valid passport, proper visa, the necessary passport pictures, and the International airfares. Travel insurance. Items of personal nature such as gratuities to porters at hotels, telephone / telex / fax charges, laundry, beverages, meals, optional activities (as fishing, boating, horseback riding, sauna, etc.) , and services not specified in the itinerary. Any circumstances beyond of our control, such as the imposition of quarantine restrictions, weather conditions, etc.