Caral Full Day classic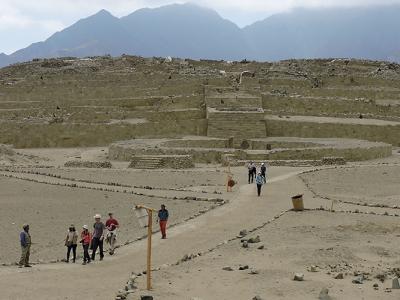 Cities

| | |
| --- | --- |
| Caral |  Peru |
| Huacho |  Peru |
| Lima |  Peru |

Category
4*
Transport
Bus, Car
Group discount starts from
3 people
Days
1
Price per person
from $130
Caral is the second oldest Civilization in the world, it is contemporary with the pyramids of Egypt and it's located in the middle of mountains 190 km north of Lima. Caral also, is the oldest civilization in America and has an approximate age of 5,000 years.
Together with Caral, 19 settlements of the same period have been identified, along a 40 km stretch passing through Supe`s areas of coast, low valley, and middle valley. At each of these archaeological sites there are public buildings with sunken circular plazas, as well as domestic units. Of them all, the Sacred City of Caral is the center where we find a well-organized use of space and the greatest architectural complexity, features that position it as the most outstanding of all the urban settlements identified in Peru dating back to the Late Archaic period (3000 – 1800 B.C.).

o Small Group service: minimun 3 pax
o Departures: From Mon to Sun
o Start: 6:05 am
o Finish: 6:30 pm
o Distance: 182 Kms North Lima
o Difficulty level: Leve
o Altitude: 359 masl
o Coordinates: -10.892775, -77.523201
Caral, la ciudad de las pirámides, es de edad contemporánea con las pirámides de Egipto y está ubicada en medio de montañas a 182 Km al norte de la región Lima. Se descubrió en el año 1994 y su importancia se basa en que representa la primera civilización en América con una antigüedad aproximada de 5,000 años. Durante la visita, pueden apreciarse edificaciones monumentales, así como altares de fuego sagrados utilizados en la época.

o Pasajeros mínimos: 3
o Salidas: Todos los días.
o Inicio: 6:05 am
o Término: 6:30 pm
o Distancia: 182 Kms al Norte de Lima
o Nivel de dificultad: Leve
o Altitud: 359 msnm
o Coordenadas: -10.892775, -77.523201
The price includes
o Official Guide & Bilingual service: Portuguese - French - Spanish – English. o Pick up from hotels. o Entrance tickets to museums and attractions. o Turistic Lunch at Bolívar restaurant – Huacho. (vegetarian lunch option). o Tourist transport with professional driver, GPS tracking and wifi on board. o Maximum speed transfer 90 km/h.
The price does not include
o Tips. o Alcoholics drinks.