Miguel Pasos Avilés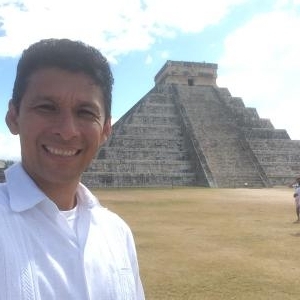 I started as a tour advisor and sales representative at Thomas Moore Travel at The Royal Resorts, worked for 11 years and then decided that it was the time to try something diferent. I had the opportunity to work at Chac Chi fishing marina, Ecocolors Tours, Best Day Travel and Dolphin Discovery.
My passion for my culture, The Mayan Culture combined with my love for the archaeology and teaching are the main reasons that made me decide to take this "job".
Nowaday I work as a tour conductor and guide in Cancun and the Riviera Maya. My goal is to create experiences that last for the entire life and do my best in order that the people who spend a day with me might learn something that has an impact on their life.
I will explain in simple common language the significant features of the area in an entertaining way. "A lot of people won't take a tour because the last time they did, they were one of 50 people, and the tour guide was talking at them." For this reason I keep groups small — from 1 to 13 people- to make the tours personal and let people ask questions and tell their interests.
Currently I can guide at Tulum, Coba, Chichen Itza, Ek Balam & Uxmal.
Looking forward to meeting you!
Pays : Mexico
Ville: Cancún, Tulum, Playa del Carmen
Langues : English, Spanish
Téléphone : +52 1(998) 2409587 / +52 1(998) 240 9587
Excursions