Ina Leisure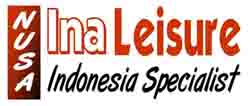 Ina Leisure is a tour operator company registered as Nusa Ina Leisure Indonesia Specialist limited company; a fully licensed as a Destination Management Company based in Jakarta Indonesia.
We employ experienced travel consultants who comprehend well what a vacation means to our clients.
Our company provides personalized travel services and can tailor made packages tours in Indonesia and also overseas. Our well designed itinerary will brings our customers exposure to all the variety, way of life and good balance between the desire to see as much as possible and having time to relax.
Pays : Indonesia